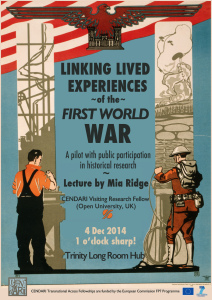 My edited volume on 'Crowdsourcing our Cultural Heritage' for Ashgate, featuring chapters from some of the most amazing people working in the field was published in October 2014. (I know I'm biased, but seriously.) You can read my introduction on the OU repository: Crowdsourcing Our Cultural Heritage: Introduction.
By day, I'm usually at work at the British Library, so drop me a line if you'd like to meet for coffee and a chat. This means my availability for events is limited, but you can drop me a line if you'd like to book me for an event.
Some upcoming trips: in February I'm doing a workshop in Edinburgh for Dr Anouk Lang's Beyond the Black Box: Building Algorithmic and Statistical Literacy through Digital Humanities Tools and Resources and in Santa Barbara for Always Already Computational: Library Collections as Data. I'm keynoting at DIGIKULT 2017 in Sweden in March, and in June I'm in Sydney for the Future Library Congress at EduTECH. I will be popping down to Melbourne so let me know if you're up for a coffee. I'll also be giving a keynote in France in October.
Some recent papers
This is rarely up-to-date or complete, but…
In November 2016 I was in Riga, Latvia to give the closing keynote at the Europeana Network Association AGM 2016. In October I spoke at 'What should be in your digital toolbox', gave a keynote, 'Digital history: evolution or transformation?' at The Science of Evolution and the Evolution of the Sciences conference in Leuven, Belgium around October 12th and 13th, 2016 and at Internet Librarian International then chaired the Museums Computer Group's Museums+Tech conference. In August I was in York for 'Negotiating Expertise' and in Helsinki for Museum Theme Days 2016 in September.
In June 2016 I was in Luxembourg for a workshop on Network Visualisation in the Cultural Heritage Sector. My talk notes for Network visualisations and the 'so what?' problem are online. I also keynoted at LIBER (Ligue des Bibliothèques Européennes de Recherche – Association of European Research Libraries) in Helsinki. My slides are online but may not make much sense without notes.
In March 2016 I was at Rice University in Houston then Austin (at the iSchool in UT Austin then St Edwards), then I was on a panel on 'Build the Crowdsourcing Community of Your Dreams' at SXSWi 2016 with Ben Brumfield, Meghan Ferriter and Siobhan Leachman.
In January 2016 I was back in Oxford for a workshop on 'DIY Digitisation' at the Bodleian Libraries.
Here's a summary of talks, fellowships, writing, etc in 2015, 2014, 2013, 2012 and 2011. You can also follow me on twitter (@mia_out) for updates.
Previous papers are generally listed at miaridge.com or on my blog, Open Objects.