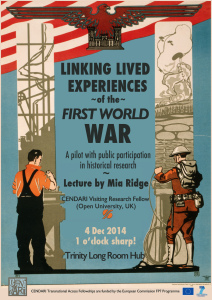 As part of my Visiting Research Fellowship at Trinity College Dublin's Long Room Hub I gave a lecture on 'A pilot with public participation in historical research: linking lived experiences of the First World War'.
The abstract and podcast are below, and there's further information about my CENDARI Fellowship here.
Abstract: The centenary of World War One and the digitisation of records from a range of museums, libraries and archives has inspired many members of the public to research the lives of WWI soldiers. But it is not always easy to find or interpret military records. What was it like to be in a particular battalion or regiment at a particular time. Can a 'collaborative collection' help provide context for individual soldiers' experience of the war by linking personal diaries, letters and memoirs to places, people and events? What kinds of digital infrastructure are needed to support research on soldiers in the Great War? This lecture explores the potential for collaborating with members of the general public and academic or amateur historians to transcribe and link disparate online collections of World War One material. What are the challenges and opportunities for participatory digital history?
Thursday, 04 December 2014 | 13:00 | Trinity Long Room Hub
A lecture by Visiting Research Fellow at the Trinity Long Room Hub, Mia Ridge (The Open University). Mia is a Transnational Access fellow, funded by the CENDARI project (Collaborative European Digital Archive Infrastructure).