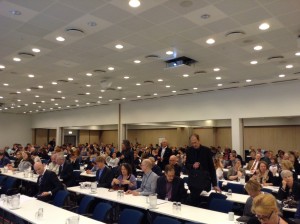 I was invited to give a keynote on 'Crowdsourcing our cultural heritage' at Nordiske Arkivdage 2015 (#NordiskArkiv), a triennial gathering of archivists from Finland, Iceland, Norway, Sweden, Denmark, the Faroe Islands, Greenland and Åland in Copenhagen on May 8, 2015. I greatly enjoyed hearing about various crowdsourcing projects that state and city archives in those countries have worked on over the years (and would still love to hear more). My slides are below.
From my introduction:
Today I want to talk about why crowdsourcing creates opportunities for productive, meaningful public engagement with cultural heritage. This isn't a sales pitch – crowdsourcing is not a 'magic bullet' – but I think an investment in crowdsourcing can be repaid with impressive results in the amount of material processed, and in new relationships with our shared cultural heritage in museums, libraries, universities, community groups and archives.

So in the next twenty minutes I will briefly explain what crowdsourcing in cultural heritage is, give you a glimpse of some projects where crowdsourcing has been incredibly productive, and discuss how it can help make collections more accessible while engaging people more deeply in thinking about those collections…

Crowdsourcing in cultural heritage asks the public to help with tasks that contribute to a shared, significant goal or research interest related to cultural heritage collections or knowledge. As a voluntary activity, the tasks and/or goals should be inherently rewarding.
If you're interested in engagement through crowdsourcing, you might also like From tagging to theorizing: deepening engagement with cultural heritage through crowdsourcing. Curator: The Museum Journal, 56(4) pp. 435–450. If you're interested in crowdsourcing in cultural heritage generally, try the book! My Introduction to Crowdsourcing Our Cultural Heritage is online.