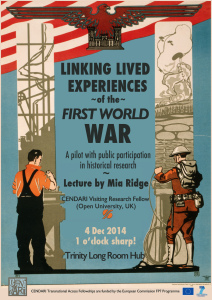 For obvious reasons in 2020-21, this page is less populated than usual…
2017-18 was a bit of an odd year and I've subsequently reduced the number of invitations I accept each year. 2020 has also been a bit of an odd year, even without the pandemic.
My edited volume on 'Crowdsourcing our Cultural Heritage' for Ashgate, featuring chapters from some of the most amazing people working in the field was published in October 2014 and is now out in paperback. You can read my introduction on the OU repository: Crowdsourcing Our Cultural Heritage: Introduction.
By day, I'm usually at work at home at the British Library, so drop me a line if you'd like to meet for coffee and a chat. My availability for events is limited, but you can drop me a line if you'd like to book me for an event.
Some recent papers
Some publications are listed or accessible at my ORCID page, my Open University repository page, Humanities Commons page and my Zotero page.
This page is rarely up-to-date or complete, but here's a summary of talks, fellowships, writing, etc in 2019, 2018, 2017, 2016, 2015, 2014, 2013, 2012 and 2011. You can also follow me on twitter (@mia_out) for updates.
Previous papers are generally listed at miaridge.com or on my blog, Open Objects.